>
Where Are the Best Areas to Invest in Dubai?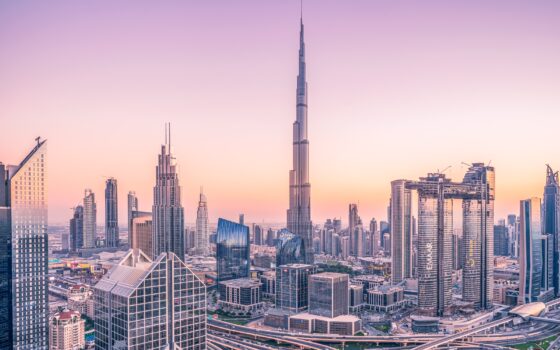 As one of the fastest-developing cities in the world, Dubai has transformed into a leading hotspot for property investment. Given the vast amount of investment and regeneration throughout the various regions in Dubai, investors are able to benefit from consistently strong returns paired with a high potential for capital appreciation as Dubai's development continues.
With development happening throughout Dubai, it can potentially be overwhelming when trying to decide on the best location for investment. With this in mind, we have broken down some of the best areas to invest in Dubai property.
Best Areas to Invest in Dubai:
Jumeirah Village Circle
One of the more recent regions in Dubai that has seen a huge amount of regeneration in the last few years, Jumeirah Village Circle, or JVC, has completely transformed into an excellent location for investment.
This is predominantly thanks to its lower-than-average entry prices paired with strong demand from tenants looking to move to the tranquil living available in the area. Prices in JCV can range from around £150,000 to £300,000 (around 700,000 AED to 1,400,000 AED) – far below the average property price in Dubai of 3,300,000 AED (Knight Frank, 2023). This lower purchase price allows investors to benefit from much higher rental yields ranging from 8-10% on average.
With continuing investment in JVC and the surrounding areas paired with the aforementioned lower purchase prices, properties in JVC have strong capital appreciation potential. JVC also benefits from an excellent location in the city, just a 15-minute drive from both Dubai Marina and Downtown Dubai, whilst the area is also surrounded by highways allowing for extremely easy access. As a result of all of these factors, JVC is one of the best areas to invest in Dubai real estate.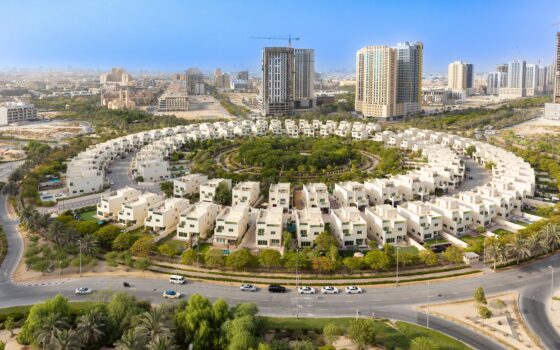 Jumeirah Village Triangle (JVT)
Jumeirah Village Triangle, or JVT, is one of Dubai's most family-friendly neighbourhoods and its popularity has increased substantially in the last few years. Known for its tranquil and relaxed ambience that provides a retreat from the hustle and bustle of urban life, JVT is an attractive destination for families looking for a safe and comfortable place to live, which has resulted in high demand for rental properties in the area.
JVT's location is another one of the area's biggest selling points. The presence of excellent educational institutions within or near JVT is another major draw for families. The likes of Dubai Marina and JVC are all within extremely close proximity, whilst the presence of excellent educational institutions within or near JVT is a major draw for families.
Similar to JVC, investment properties in JVT are much more affordable than traditional hotspots such as Dubai Marina and Downtown Dubai. This paired with the high rental demand has resulted in a lucrative investment market for investors to benefit from, not to mention the potential for growth in the area as JVT continues to develop.
Arjan
Arjan is another up-and-coming location in Dubai. Part of the large developing community of DubiLand, Arjan's popularity has soared thanks to its strategic location in the heart of Dubai. The area offers easy access to the likes of Dubai Marina, the aforementioned JVC and Al Barsha, the home of The Mall of the Emirates.
The area also offers excellent potential for growth in the coming years, as Arjan is still undergoing development. This presents a unique investment opportunity. New projects, infrastructure improvements, and urban planning initiatives are enhancing the overall appeal of the area
Compared to some of Dubai's more established neighbourhoods, Arjan also offers more affordable property options. This can attract a wider range of potential buyers or renters, leading to a quicker return on investment. As Arjan develops and becomes more established, property values could appreciate over time. Investing in a growing area could lead to capital appreciation, increasing the value of your investment over the years.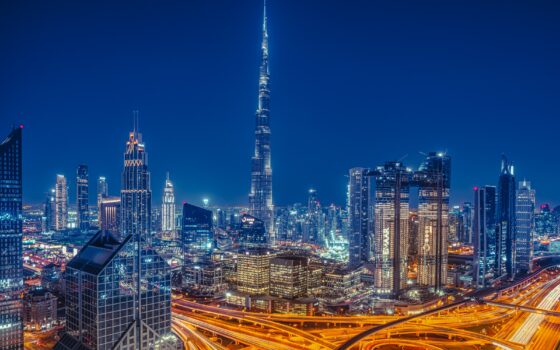 Downtown Dubai
Downtown Dubai, a focal point of Dubai's urban landscape, has become an extremely popular neighbourhood for investors seeking strong real estate prospects. The central district's meteoric rise, punctuated by landmarks like the Burj Khalifa and Dubai Mall, has solidified its position as an iconic global destination. Downtown Dubai's prime location at the heart of the city is a central driver of its investment appeal. The area's proximity to major business centres and its seamless connectivity make it an ideal choice for professionals and executives, fostering steady demand for upscale properties.
The district's investment potential is bolstered by its diverse rental landscape. With rental yields ranging from 5% to 7%, Downtown Dubai offers reliable returns for long-term investment, albeit for a higher price point thanks to the area's popularity. Downtown Dubai offers a rich lifestyle experience. The presence of the world's tallest tower, upscale shopping, and cultural attractions like the Dubai Opera add allure for both residents and tourists.
Downtown Dubai's ascent into an internationally acclaimed hub, coupled with its strategic location, rental opportunities, and lifestyle offerings, makes it an enticing investment prospect. The blend of luxury living and urban vibrancy cement Downtown Dubai's status as a premier investment hub within Dubai's real estate market.
Business Bay
Business Bay is a vibrant, cosmopolitan neighbourhood that seamlessly combines luxurious living with world-class business opportunities. Situated just 5 minutes from Downtown Dubai and moments from Dubai International Financial Centre (DIFC), its strategic location and excellent growth potential make it a top choice for investors looking to purchase property in Dubai.
Investing in Business Bay is more than just a status symbol; it's a smart financial move that promises lucrative rewards. With entry-level prices starting at a modest 1 million AED, investors can look forward to exceptional returns on their investments. Thanks to the diverse and abundant pool of tenants, Business Bay boasts net rental yields of over 8%, positioning itself as an attractive destination for both long-term and short-term investors in search of a steady income and capital growth.
Business Bay undoubtedly stands out as one of the most promising investment destinations in Dubai. Its strategic location, luxurious waterfront living, proximity to DIFC, and strong growth prospects make it an irresistible proposition for potential investors. Whether you're seeking a high-end residence for personal use or a lucrative investment opportunity, Business Bay has it all.
Meydan
Meydan is one of the prime residential areas in Dubai and has undergone a remarkable transformation over the past decade, transitioning from a protected zone to a vibrant hub of development. One of Meydan's significant draws is its strategic positioning within proximity to Dubai's bustling business district. This proximity positions the area as a prime locale for professionals and executives, translating into a robust potential for capital appreciation. The demand for upscale housing within close reach of the business centre drives Meydan's appeal among discerning investors looking to secure properties in a dynamic and coveted setting.
Meydan is also a mere 10-minute drive away from the Dubai International Airport, known as the world's busiest airport. This strategic connectivity amplifies Meydan's attractiveness not only to local residents but also to international travellers and expatriates seeking ease of travel.
The area boasts a strong potential for rental yield, with net yields of around 6-7% for annual leases. Moreover, investors interested in short-term rental avenues can tap into the thriving tourism sector of Dubai, potentially realizing rental returns ranging from 10% to 15%. This versatility in rental options allows investors to tailor their approach according to their investment goals and preferences.
Dubai Marina
Dubai Marina is another region in the city that has undergone remarkable growth, attracting investors seeking prime real estate opportunities. Its iconic location along the Arabian Gulf coast, adorned with high-rise residential towers, offers breathtaking ocean views. This proximity to both business districts and efficient transportation networks has led to steady demand for upscale properties, particularly among professionals.
The area's investment appeal extends to its rental market. With annual yields of 5% to 7%, Dubai Marina provides stable returns for long-term investment strategies. Beyond its financial prospects, Dubai Marina is a vibrant lifestyle hub, offering diverse leisure, dining, and entertainment options. The Dubai Marina Walk and the neighbouring JBR beachfront enhance its allure, attracting both tenants and visitors.
Dubai Marina's growth into a sought-after destination with its waterfront charm, strategic location, and rental prospects presents a compelling investment opportunity. Whilst prices are extremely high in the region, the steady demand makes for a strong investment.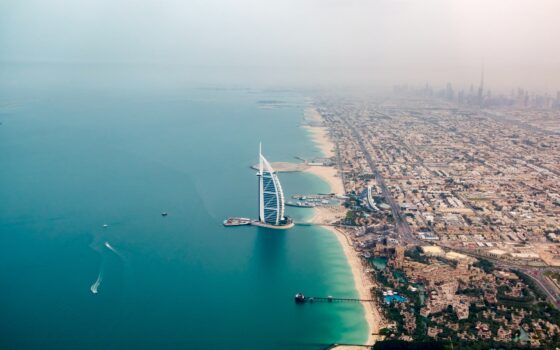 Are you looking invest in the best areas in Dubai? Get in touch with us today!