>
Vincitore Aqua Dimore
| Title | Value |
| --- | --- |
| Location | Dubai Science Park |
| Price From | AED 695,000 |
| Unit Types | Apartments |
| Average Sizes | 415 to 1835 sqft |
| Handover Date | Q1-Q2 2027 |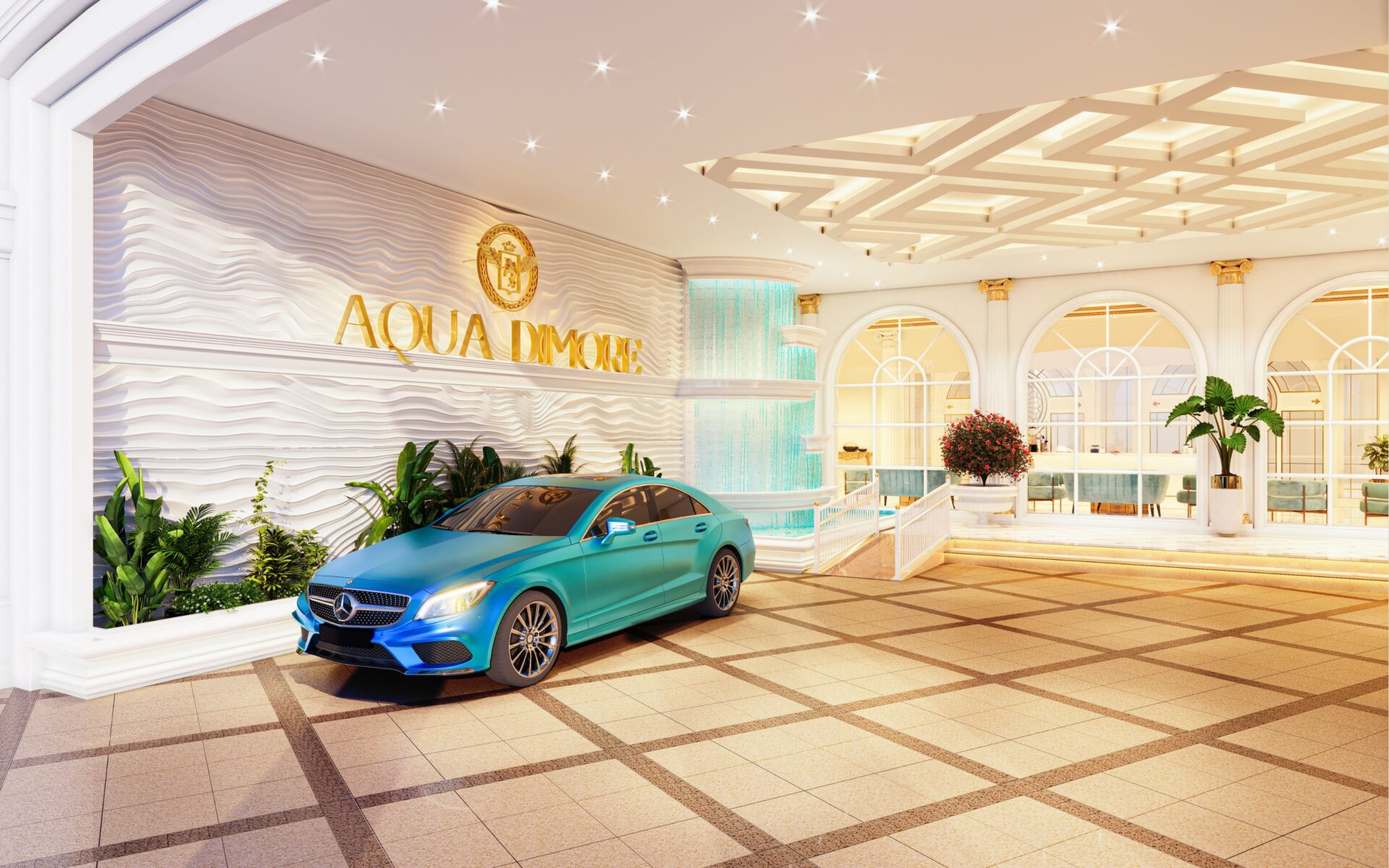 Aqua Dimore Overview
Aqua Dimore, the latest masterpiece by Vincitore Realty, seamlessly carries forward the legacy of creating architectural marvels inspired by Victorian grandeur. The distinct Victorian columns and arches that grace the building contribute to its visually captivating aesthetic, establishing Aqua Dimore as a prime investment opportunity.
Welcome to a 30,000 sq. ft. leisure haven, meticulously designed to elevate both lifestyle and investment potential. This meticulously crafted space not only offers a retreat into nature but also positions itself as a strategic investment that combines aesthetic allure with financial promise.
As you wander along the lazy river's gentle curves, envision the investment potential that comes with a unique offering. The crystal-clear waters winding through lush greenery and thoughtful landscaping don't just create a serene atmosphere but enhance the property's appeal for potential investors seeking premium real estate opportunities.
Imagine standing on your balcony, greeted by the soothing sounds of water and the promise of a refreshing dip. A balcony equipped with a plunge pool and counter bar transforms outdoor living into an exclusive investment, where relaxation seamlessly merges with the potential for high returns.
Aqua Dimore is more than a residence; it's a strategic investment that celebrates elegance, tranquillity, and the promise of financial growth. Embrace a lifestyle that not only indulges in luxury but also invests in a future where every detail contributes to the appreciation of your property's value.
Aqua Dimore Investment Highlights
Guaranteed 8% NET returns for 3 years
Numerous payment plans available
Dubai's first-ever indoor-outdoor sky pool
Royal Italian architecture
Aqua homes with plunge pool
5-star dedicated driveway and drop-off
Over 50,000 sq. ft. dedicated to amenities
20+ experiential amenities
40-meter grand lobby
Dubai's first-ever indoor-outdoor pool
Classic Italian architecture
Prestigious location of Dubai Science Park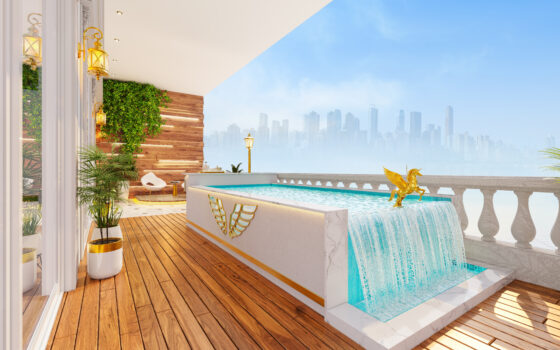 Why invest in Dubailand?
Nestled within the vibrant and dynamic landscape of Dubai, Aqua Dimore is strategically positioned in the thriving community of Dubai Science Park. This innovative and buzzing locale places Aqua Dimore at the epicentre of not just residential living, but also connectivity, commerce, and culture.
Aqua Dimore stands as a testament to its strategic location, offering impeccable connectivity to prominent business districts and upscale shopping destinations. This prime positioning ensures that residents are seamlessly connected to the pulse of the city, providing unparalleled convenience for both work and leisure.
Beyond its strategic location, Aqua Dimore is surrounded by esteemed educational and medical institutions, further enhancing the appeal for families seeking a well-rounded living experience. The proximity to these reputable establishments not only ensures accessibility but also reflects the commitment to providing a holistic and enriching lifestyle.
Nearby
Dubai Miracle Garden: (1 min)
Dubai Hills Mall: (4 min)
Dubai Autodrome: (5 min)
Mall of the Emirates: (7 min)
Dubai Polo Equestrian Club: (8 min)
IMG Worlds of Adventure: (10 min)
Dubai Marina: (12 min)
Burj Khalifa: (15 min)
Palm Jumeirah: (15 min)
Dubai International Airport: (15 min)
Al Maktoum International Airport: (18 min)
Amenities at Aqua Dimore
20+ lifestyle amenities
Dubai's first-ever indoor-outdoor pool
Over 50,000 sq. ft. dedicated to amenities
Classic Italian architecture
Prestigious location of Dubai Science Park
Royal Italian architecture
Aqua homes with plunge pool
5-star dedicated driveway and drop-off
Dubai's first indoor-outdoor sky pool
40-meter grand lobby
Lazy river with crystal-clear waters and lush landscaping
Balconies with the soothing sound of water and plunge pool
A 30,000 sq. ft. leisure zone
Victorian-inspired architecture with columns and arches
Excellent connectivity to prominent business areas and shopping destinations
Proximity to renowned educational and medical institutions
Close vicinity to leisure avenues and cultural attractions
Other Investment Opportunities